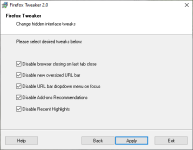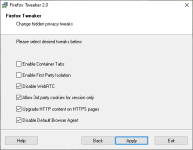 This tool is made by me, just so we're clear on where it's coming from
It's been a short while since I released initial version and since I had plenty of time I was super busy and made new v2.0 in just 2 days
Had to pick "Update" prefix here because no other applies...
What is Firefox Tweaker?
Firefox Tweaker is a tool that allows users to easily control aka "tweak" hidden Firefox settings. These tweaks are mostly a result of silly design decisions by Mozilla and they go out of their way to make them super difficult to revert or change. Especially now that they have dumbed down about:config tweaks page even further…
How Firefox Tweaker applies tweaks?
This tweaker directly modifies settings within prefs.js file. Because Mozilla's dumb idea is to kill user.js tweaks soon to save 0.000002 milliseconds of browser startup time, so I'm not even going to bother doing it through user.js and instead modify prefs.js directly. As a safety measure, backup of prefs.js is created on initial run of Firefox Tweaker. You will be notified about it on run-time.
Special thanks
I'd like to specially thank Mozilla designers/developers to bless us with silly design decisions which forced me to develop this tool in order to easily revert or change them. I wouldn't have to do it without you!
Limitations
Firefox Tweaker only works with Windows (and thus only supports Firefox for Windows) and only really supports single profile Firefox due to mechanism which fetches prefs.js location. If there are more profiles it will detect the first prefs.js which might not be the correct one.
DOWNLOAD, CHANGELOG & MORE INFO:
What is Firefox Tweaker? Firefox Tweaker is a tool that allows users to easily control aka "tweak" hidden Firefox settings. These tweaks are mostly a result of silly design decisions by…
rejzor.wordpress.com