Level 41
Thread author
Verified
Hi and welcome to MalwareTips Malware Removal Forum. If you are reading this, then you are probably seeking help or feel infected. Over 5000 topics have been posted in this forum and most of them have reached a successful conclusion. All instructions are very simple and you need only basic computer skills in order to get your problem solved along with us.
Before opening the topic, please read
Malware Removal Assistance rules
, and stick to it, to avoid confusion.
Also, be advised:
You're being helped by volunteers who dedicate their free time (when they are available) to help you free of charge, so please have that in mind by being patient (your help request won't be overlooked) and kind and by showing some respect and appreciation to them. If you cannot control your feelings and you are not satisfied with the help in any way, then you can always reach for your pocket and pay for the expensive help in your local PC repair shop.


It is not our intent to repeatedly remove malware from the same member's machines. The intent of this free service performed by volunteers is to help remove malware from your machine, educate you on how it may have happened, and how to prevent that from happening again.


We do not provide help for work/business machines. As being said, this forum is run by volunteers that spend their time free of charge trying to help people. We're not here to help someone earn money.
Due to the high possibility of reinfection and illegality, we won't support any piracy.
That being told, if any evidence of illegal OS, software, cracks/keygens or any other will be revealed, any further assistance will be suspended. If you are aware that there is this kind of stuff on your machine, remove it before proceeding!
If we spot signs of piracy, your topic will be closed and you won't be able to receive any assistance in the future.
Failure to follow these guidelines will result in closing your topic and withdrawing any assistance.
​
Step 1. Scan your PC with Malwarebytes Anti-Malware
You can get Malwarebytes downloaded from the link below:
Malwarebytes for Windows
If this doesn't solve your problem or you want a just in case check, please proceed with the next step.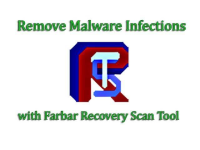 Step 2. Download and run FRST
Please download
Farbar Recovery Scan Tool
and save it to your Desktop.
Note: You need to run the version compatibale with your system. If you are not sure which version applies to your system download both of them and try to run them. Only one of them will run on your system, that will be the right version.
Right click on

to Run as Administrator
(XP users click run after receipt of Windows Security Warning - Open File).
When the tool opens click Yes to disclaimer.
You will be presented with a window like below:


​

Click Scan.
It will produce a log called FRST.txt in the same directory the tool is run from.
The first time the tool is run it generates another log (Addition.txt - also located in the same directory as FRST.exe/FRST64.exe).
Step 2. Attach FRST reports from step 1
After you generated the reports from both of the two tools, you need to attach them. There is a button when posting your topic. Use it to attach all reports.
If you have difficulties to attach the reports, just open them, and copy their content into the topic.
Step 3. Enable topic reply notification
In order to be notified via email when your topic has a reply, you need to enable topic notifications. To enable topic notifications you should do the following:
Click on Preferences.
Put a checkmark in the checkbox labeled Automatically watch threads that you create or when you reply... and receive email notifications of replies.
Click on the Save Changes button.
If you receive no email within 24 hours, check your spam folder.
Last edited by a moderator: