Level 5
Verified
Well-known
And now if you sign up to their auto-renewal, you get free VPN for 5 devices. Don't forget that too.
McAfee Auto Renewal!
I have purchased from Amazon so that McAfee does not get my card details. I use keepsolid and free 50GB free Winscribe. Good thing is that they sell the product as Internet Security 1device and I got unlimited device !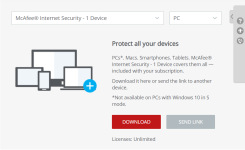 You'll find it to be much lighter than f-secure. At least in my experience, it is.
I have not found any difference. But it is as light as FS and a full suite. I don't want to hurt anyone but I found that FS still needs to improve. That's why I am going to leave FS.