Level 68
Thread author
Verified
Honorary Member
Top Poster
Content Creator
Well-known
The office where nobody can hear you scream.

The year is 2077. You shuffle into your Amazon-brand open-plan work domicile. You grimace at the lukewarm Starbucks nutrient-infused coffee in hand, paid for with Bezocoins crypto. The markets are particularly volatile today, so your mandatory nutri-coffee comes with an additional 3 hours of work hours attached. You sigh in grim acceptance.

Some colleagues are at work early, no doubt to complete workhour debts accrued and tracked by mandatory WorkFun™ implants on loan from Meta. President Zuckerberg just celebrated the start of his 9th term in office by revealing the new product, designed to make work more Fun™ and more Efficient™, complete with seamless connectivity to the Meta-brand Meta-verse.

You slip on your Meta Quest 7 mixed reality goggles, to join your colleagues in the

Microsoft Teams

metaverse workspace. While you cannot afford such expensive accoutrements in real life, your Microsoft Teams avatar sports the latest digital fashion from cyber-Gucci, complete with retro NFT Yeezy crocs.

As your avatar awkwardly navigates the metaversal Teams room, you select a smile from your emotion picker. Facial expressions were supposedly something earlier generations of human beings had, the A.I. tooltip explains. While some scientists have claimed such things to be fake news, seeing the pixelated smiles of your colleagues enhances your productivity rating by 7% according to your WorkFun™ tracker. Settled in the infinite Zuckerverse, as you strap in for another productivity meeting, the first of several for the day.
Okay, so I'm being a little dramatic in the above, but right now, it's simply hard to envision a world where any of this Metaverse nonsense actually enhances anything for anyone in practical terms.

This past week, Meta (formerly known as Facebook), kicked off its Oculus event where it outlined the future of its nascent VR platform. Meta CEO Mark Zuckerberg is known to be spending billions upon billions of dollars chasing what he has convinced himself is the next big thing for computing and internet interaction — virtual reality. And for whatever reason, our favorite megacorp Microsoft is seemingly on board. Part of me thinks this is some kind of cynical and Machiavellian strategy to help Meta destroy itself more quickly by leading them deeper into a fiscally dissonant rabbithole Microsoft knows is actually a big nothingburger. Whatever the truth is, Microsoft has sat up and decided to bring many of its products into Mark's Zuckerworld.

Microsoft Teams, Office

, and

even Xbox Cloud Gaming are all coming

to the Zuckerverse. The Office and Xbox Cloud Gaming implementation are pretty pedestrian, running within a regular Window. We've seen this before with Microsoft's own Mixed Reality efforts. However, the Microsoft Teams implementation is more pervasive, with a UI that actually looks arguably better than that of Teams on Windows, complete with cartoony avatars taken from Microsoft's purchase of

Altspace VR

some time ago.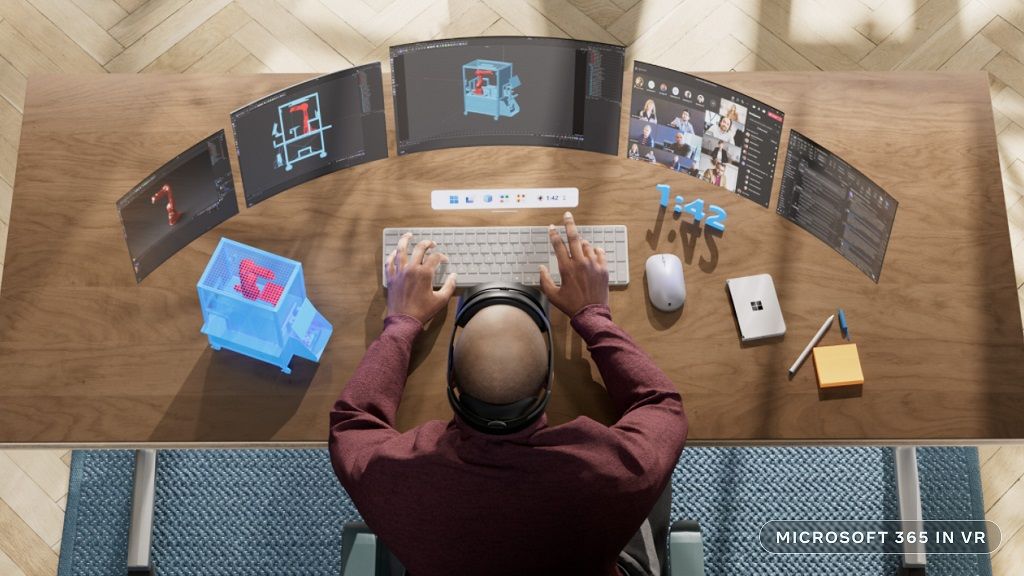 The office where nobody can hear you scream.

www.windowscentral.com