Community Manager
Thread author
Verified
Staff Member
Well-known
@Jack
has added a new giveaway system for MalwareTips giveaways
The built in giveaway system will now allow members to click on a button to enter the giveaway
The new system will greatly reduce the time and effort that the previous giveaway method entailed.
The new system automatically records all entries and also randomly chooses the winners.
It also automatically sends private messages to the winners.
Winners will be required to post their social media share link in their winning PM thus making this only visible to staff and protecting the privacy of members.
The following will no longer be necessary tasks for staff under the new method
Checking pages of entries to see that they are properly entered.
Pulling out all the entries to make a list of all members who entered.
Copy & pasting usernames of all who entered to Random.org and randomizing the list
The arduous task of sending out 10,20,50,100 private messages to those who are winners.
The free time that was used to run these giveaways,as you can imagine the time & effort spent from the list above.
There are some things that need to be noted and complied with for the new system to be used to it's potential
You still need to read all the rules for the giveaway which are clearly posted in both the announcement thread and the giveaway rules

To enter the giveaway all one needs to do is click on a hyperlinked button,at least for the time being,these buttons may vary based on who is running the giveaway.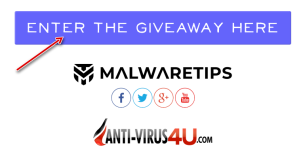 or by clicking the green "Enter Now" button on the banner located near the header on the homepage

These will take you to the entry page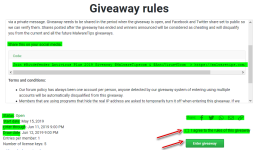 As you can see it gives you the giveaway status,start date,end date and draw date as well as times
It also shows the number of entries allowed for the giveaway

You still need to be a registered member

You still need to share the giveaway on a social media site which needs to be made public

You may or may not be required to post your security configuration

Once again read all the rules prior to entering so you are not disqualified

Tick the box that you have read and agree to the rules
Then click enter giveaway box
Winners will be automatically sent a Private message
Winners will still need to reply within the time period set in the giveaway rules
Winners will also need to post their valid public social media share link within this PM in order to receive their license
If a winner does not provide a valid public social media share link then another winner will be selected in order from the list
Any questions or concerns can be directed to myself @BoraMurdar @Jack @Spawn via Private Message
This should make the giveaways much easier to run for staff and much easier for those who wish to enter.
Good Luck
Last edited: