New Microsoft Edge grew 1,300% this year, overtaking Firefox​
The new Chromium-based Microsoft Edge browser has grown by over 1,300% in the past 12 months, while the Firefox browser is slowly losing its market share.

In January 2020,

Microsoft released the first stable version

of the new Chromium-based Microsoft Edge browser and announced that they would slowly release it to Windows 10 users. Unless users

created special Windows Registry values

, the new Edge would replace Microsoft Edge Legacy when installed.

As the new Microsoft Edge uses the same engine as Google Chrome, the browser quickly grew in popularity as it provides excellent performance, features. and can use all of Chrome's existing extensions.

As first reported by

WindowsLatest

,

StatCounter shows

that Microsoft Edge has grown from a 0.57% market share in March 2020 to 8.03% by March 2021. This is an impressive 1,308% growth in market share in just twelve months.

The largest single-month increase for Microsoft Edge was in June 2020, most likely fueled by Microsoft's increasing rolling out of the new browser via Windows Update.
​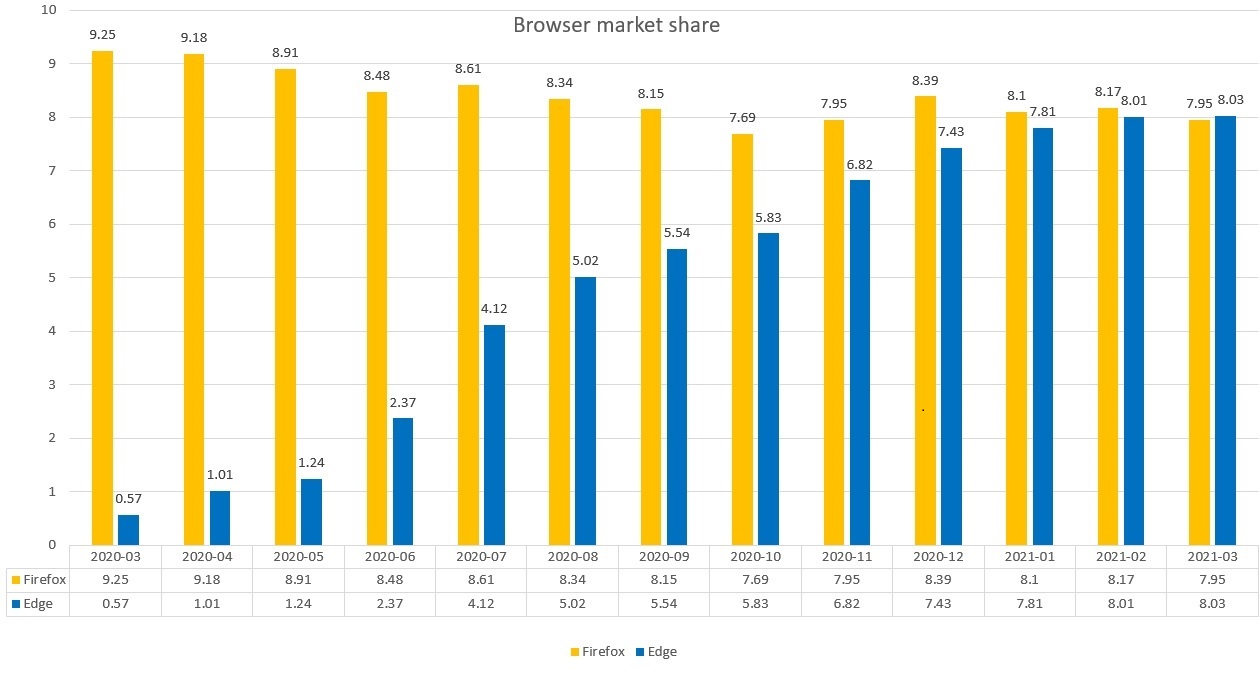 ​
​
The new Microsoft Edge vs. Mozilla Firefox in market share
Source: WindowsLatest
While we expected that Microsoft Edge's increased usage would take away from Chrome's market share, in reality, Chrome's usage was only chipped away by less than a percentage point, 68.11 to 67.14%, over the past year.

On the other hand, Firefox has seen a steady decrease, with it having a 9.25% share in March 2020 and falling to 7.95% by March 2021. This makes it slightly less used than Microsoft Edge.

With Microsoft Edge Legacy being replaced by the new Microsoft Edge, its market share dropped from 4.56% in March 2020 to only 0.44% in March 2021.

As Microsoft will be

forcibly replacing Microsoft Edge Legacy

with the new Microsoft Edge as part of the upcoming April 2021 Patch Tuesday updates, Edge Legacy's market share will drop even further. At the same time, we should see a continued boost to the new Microsoft Edge's usage.

Regardless of which browser you use, the increased Microsoft Edge usage should be seen as a good thing as it is better to have competition in the market rather than one utterly dominant browser.

For a complete breakdown of market share over the past twelve months for Google Chrome, Microsoft Edge Legacy, Microsoft Edge, Firefox, and Safari, you can consult the following table.
| | | | | | |
| --- | --- | --- | --- | --- | --- |
| Date | Chrome | Safari | Firefox | Edge | Edge Legacy |
| 2020-03 | 68.11​ | 8.93​ | 9.25​ | 0.57​ | 4.56​ |
| 2020-04 | 67.15​ | 9.7​ | 9.18​ | 1.01​ | 4.86​ |
| 2020-05 | 68.33​ | 9.4​ | 8.91​ | 1.24​ | 4.41​ |
| 2020-06 | 69.42​ | 8.74​ | 8.48​ | 2.37​ | 3.45​ |
| 2020-07 | 69.55​ | 8.36​ | 8.61​ | 4.12​ | 1.93​ |
| 2020-08 | 69.87​ | 8.27​ | 8.34​ | 5.02​ | 1.3​ |
| 2020-09 | 69.71​ | 8.73​ | 8.15​ | 5.54​ | 0.94​ |
| 2020-10 | 70.33​ | 8.87​ | 7.69​ | 5.83​ | 0.77​ |
| 2020-11 | 67.71​ | 9.83​ | 7.95​ | 6.82​ | 0.69​ |
| 2020-12 | 65.96​ | 10.43​ | 8.39​ | 7.43​ | 0.57​ |
| 2021-01 | 66.59​ | 10.38​ | 8.1​ | 7.81​ | 0.52​ |
| 2021-02 | 66.47​ | 10.27​ | 8.17​ | 8.01​ | 0.48​ |
| 2021-03 | 67.14​ | 10.11​ | 7.95​ | 8.03​ | 0.44​ |
Source:
New Microsoft Edge grew 1,300% this year, overtaking Firefox
Last edited by a moderator: