I've encountered the same problem as the before one and I don't know how I got into this.
The extension type which encrypted my files are "DOPLES" as you can see in the picture.
I found this out when my windows started crashing time to time and Since I've installed new version of windows I cannot recover my files.
HELP??
The link is nothing. I've spotted this myself and if anyone can help the please do.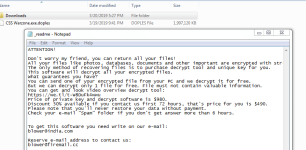 Last edited by a moderator: