Level 46
Thread author
Verified
Top Poster
Well-known
Malicious software poses an ever-increasing threat, not only due to the number of malware programs increasing, but also due to the nature of the threats. Infection vectors are changing from simple file-based methods to distribution via the Internet. Malware is increasingly focusing on users, e.g. by deceiving them into visiting infected web pages, installing rogue/malicious software or opening emails with malicious attachments. The scope of protection offered by antivirus programs is extended by the inclusion of e.g. URL-blockers, content filtering, cloud reputation systems, ML-based static and dynamic detections and user-friendly behavior-blockers. If these features are perfectly coordinated with the signature-based and heuristic detection, the protection provided against threats increases.

In this test, all protection features of the product can be used to prevent infection – not just signatures or heuristic file scanning. A suite can step in at any stage of the process – accessing the URL, downloading the file, formation of the file on the local hard drive, file access and file execution – to protect the PC. This means that the test achieves the most realistic way of determining how well the security product protects the PC. Because all of a suite's components can be used to protect the PC, it is possible for a product to score well in the test by having e.g. very good behavioral protection, but a weak URL blocker. However, we would recommend that all parts of a product should be as effective as possible. It should be borne in mind that not all malware enters computer systems via the Internet, and that e.g. a URL blocker is ineffective against malware introduced to a PC via a USB flash drive or over the local area network.
Read the full report here: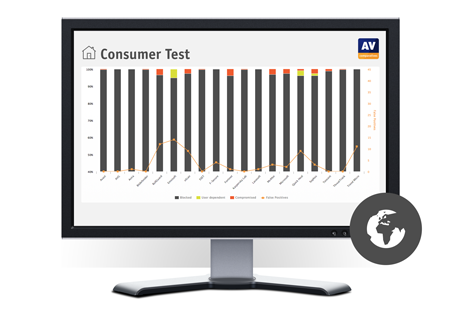 The second half year results of the ongoing Real-World Protection Test July-October 2022 are now available.
www.av-comparatives.org