Level 11
Thread author
Verified
Top poster
Well-known
Does your computer not want to boot or read data from the hard disk? Do you need to recover deleted data or perform a thorough anti-virus scan? If your computer suddenly gives up the ghost, data loss looms or you cannot log into your Windows anymore – that's where this rescue software comes in. A special rescue disk will help you with these and many other problems.
SecuPerts First Aid Kit
is a set of data recovery and Windows protection tools, as well as the removal of deep-rooted viral infection.
This time, we have prepared a First Aid Kit for you on THE SOFTWARE SHOP, with which you can easily generate and immediately burn a rescue disk or USB flash drive, from which you start a broken computer, save data from a broken or erased disk, reset a forgotten user account password in Windows, or perform a virus scan of all files, including those that are locked by the operating system while Windows is running.
Screenshot
Other tools in the First Aid Kit will also help you clone the contents of your old HDD to a new SSD, or completely and irreversibly overwrite the hard drive you want to discard or sell. For most computer management tools, a clear user interface with a desktop and application windows is prepared, as we know it from Windows.
The idea of an emergency rescue disk is simple with SecuPerts First Aid Kit. In the event of a disk crash, a Windows installation crash, or a virus attack, you simply boot your computer from a rescue USB flash drive or a Linux environment DVD equipped with the tools necessary to recover your computer and recover your data.
Therefore, SecuPerts First Aid Kit rescue features provide backup and recovery capabilities, clone hard disk content, or scan your computer for viruses (using the reliable Avira antivirus). In addition, there are also features to safely erase data from your hard drive by rewriting it if you are about to discard or sell your computer or just a hard drive.
Backup
SecuPerts First Aid Kit also includes a complete emergency desktop, allowing you to check emails, write text and surf online, etc., even though your computer will not boot up. And since First Aid Kit is built on Linux, there is also a web browser or basic office programs.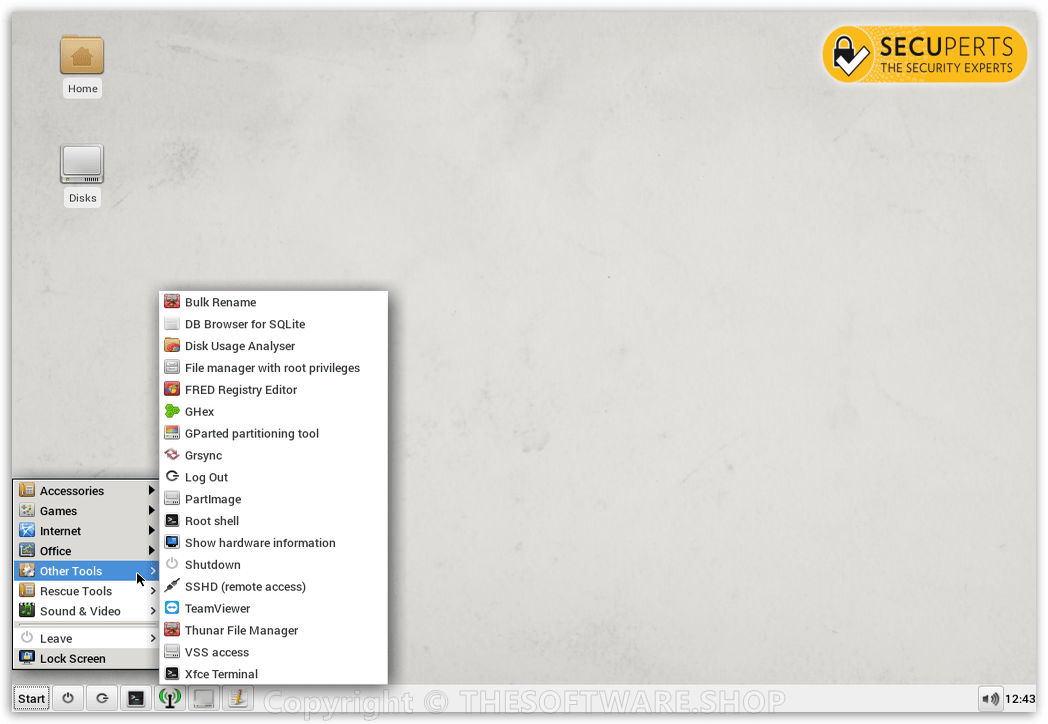 Desktop
Make sure you have everything you need for a serious situation and are best protected with SecuPerts First Aid Kit! Everyone should have this software to hand – in an emergency, every second count!
The procedure for booting the computer from the rescue DVD or USB flash drive differs depending on the motherboard manufacturer or the installed boot environment (BIOS / UEFI). When starting the computer, it is necessary to press the appropriate function key (usually [Esc], [F10], [F12], etc.) and then select the USB flash drive or DVD as the boot media. Then continue by selecting Boot SECUPERTS – First Aid Kit. You can also use the Safe startup option to run the rescue environment in a limited hardware configuration, but this may not be necessary.
Key Features of SecuPerts First Aid Kit:
Back up data – Locally or on the network, including Cloud support (WebDAV or CIFS shares).
Clone hard drives – Clone any hard drive to an at least equally large drive – corrupted blocks are read multiple times and can often be restored.
Virus Scan – Even when particularly stubborn malware deactivates the virus canner in Windows, the virus scanner can help in a live system
Share drives – All drives connected to your computer can be shared as Windows network drives, giving you access to them from any computer on the network.
Recover data – Track down and restore accidentally deleted files such as photos, videos and text documents on your disks.
Delete a hard drive – Secure deletion of data from hard disks before a computer is sold or thrown out, to prevent data falling into the wrong hands
More Feautres

Reset forgotten Windows passwords
Reset shell entries in the Registry (e.g. ransomware, shell experiments)
Registry Editor
Convert hard drives to images for virtual machines
Backup data on DVD
Detailed recovery at block level
Locate partitions (e.g. when an attempt to change partitions goes amiss)
Detailed health reports, particularly for hard drives and SSDs Remote access (client and server)