Level 70
Thread author
Verified
Top Poster
Content Creator
This guide aims to be the most in-depth resource available on private search engines. For this 2023 update, we examine the best private search engines, search results censorship, and how to keep your data safe and secure when searching online.
In today's world, search engines are a necessity to find what you're looking for online. Unfortunately, however, there are two big problems you will likely encounter:
Search engines that violate your privacy.
Search engines that censor search results.
This private search engines guide will thoroughly examine both of these problems and provide you with the best
reliable solutions
and alternatives we can find. So let's begin by examining the first problem with search engine privacy.
The search engine privacy problem​
It is sad to say, but most of the big search engines today serve as
data collection tools for advertising companies
. That's right, they collect your private data and use it to make money with targeted ads. This is a booming industry where your data ends up in the hands of third parties and
you are the product
.
Here is the information being collected by some of the larger (not private) search engines:
Source IP address
Location
Unique identifier (stored in browser cookies)
Search queries
As you may know, the items you enter into a search engine can disclose
highly personal
information about you. Things like as medical conditions, employment status, financial information, political beliefs, and other private details. This data can be collected, stored, and
linked to detailed digital profiles
which can even contain your real identity. The only way to ensure that your data is safe is to keep it out of the hands of the data collectors. To do that, you need to use a
private search engine
.
Search engine censorship in 2023​
Many people are getting fed up with online censorship, particularly when trying to find specific information that was previously available. Censorship can take many forms. With search engines today, censorship can come from filtering, manipulating, and/or blocking certain search results from appearing.
Unfortunately, the censorship problem affects many of the private search engines for these two reasons:
Censorship flows downhill. Many of the alternative and private search engines are nothing more than private proxies that deliver the same search results from the big players. This means that when Google and Bing (Microsoft) engage in censorship and search result manipulation, so will your alternative search engine that delivers those same results.
Alternative search engines themselves are also engaging in censorship. Recently the CEO of DuckDuckGo announced that they will "down-rank sites associated with Russian disinformation." We can see both sides to the question of whether or not to engage in censorship given today's geopolitical events. Nonetheless, this amounts to censorship, which is what many people are trying to avoid.
An exception to this may be with
independent search engines that deploy their own crawlers
, such as with
Mojeek
, or
Brave Search
. Additionally, with
Searx
, you can select which engines it uses.
So let's examine some alternative private search engines you can start using today.
The best private search engines​
Finding the best private search engine for your needs is a subjective process. Your circumstances and goals are unique, meaning there's no one-size-fits-all. Things to consider include:
Where is the service based?
Where does it get its search results?
Can you run your own instance?
In a perfect world, a search engine would give you great results while also respecting your privacy. Unfortunately, this isn't a perfect world. Any of the private search engines in this guide
could
be the best solution for you. But you will need to test drive the ones that look the best to you to see which is really the best fit. Before we start, there is one issue you need to be aware of:
Metasearch vs search
: Most private search engines are technically
metasearch engines
. While a search engine crawls the internet and gathers its own results, a metasearch engine pulls its search results from other search engines, such as Google, Bing, and Yandex.
There are also a few search engines that fall in the middle by deploying their own crawler, but also pulling results from other search engines.
Note: This list is not necessarily in rank order. Choose the best search engine for you based on your own unique needs and threat model.

1) SearX
2) Brave Search
3) metaGer
4) mojeek
5) Swisscows
6) Qwant
7) DuckDuckGo
8) YaCy
9) Ecosia
10) Yandex
Read below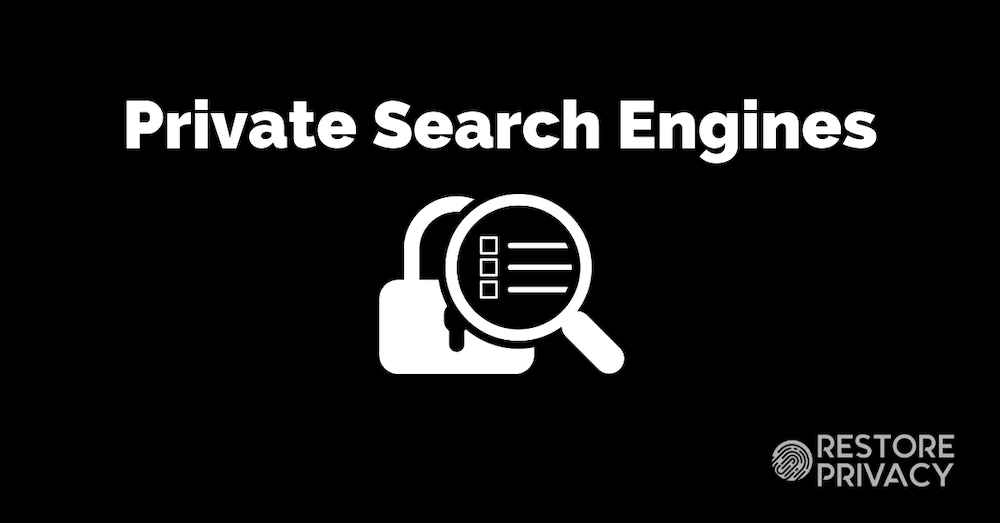 Using a private search engine is critical if you want to keep your private data secure. Here are the best private search engines.

restoreprivacy.com