Level 85
Thread author
Verified
Honorary Member
Top Poster
Content Creator
Malware Hunter
Well-known
AMD is officially lowering the barrier to entry for the Ryzen 7000 series today, announcing a handful of new models aimed at more price-conscious buyers. For people on the money-is-no-object end of the spectrum, the company is also introducing new 3D V-Cache-enabled processors with extra L3 cache that will benefit games and other cache-sensitive workloads.

The three cheaper CPUs are versions of the existing 7600X, 7700X, and 7900X, but without the X suffix. The $229 Ryzen 5 7600, $329 Ryzen 7 7700, and $429 Ryzen 9 7900 all have the same core counts and cache sizes as their counterparts but with 65 W TDPs, slightly lower clock speeds, and bundled CPU coolers. That's an $80 reduction compared to the retail prices of the cooler-less 7600X and 7700X, and the 7900 is $120 cheaper than the 7900X.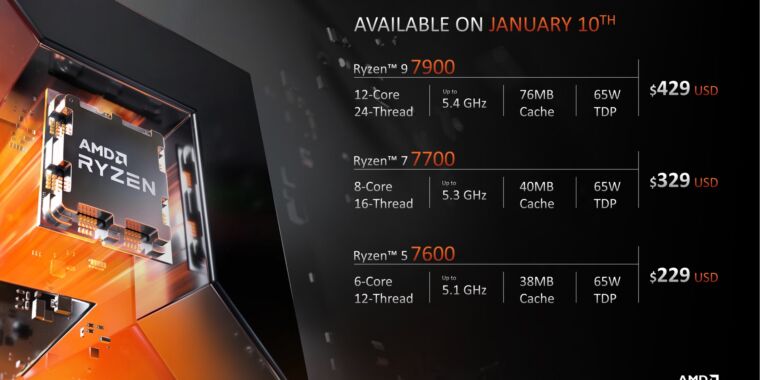 Cheaper 65 W versions and high-performance 3D V-Cache CPUs join the lineup.

arstechnica.com