Level 84
Thread author
Verified
Helper
Top poster
Content Creator
Malware Hunter
Well-known
The

Mercury Research

CPU market share results are in for the fourth quarter of 2021, showing that AMD now comprises 25.6% of the overall x86 market, its highest share ever, partially on the strength of its increasing gaming console shipments. That beats AMD's prior overall record of 25.3% that it reached 15 years ago in 2006. Meanwhile, Intel has gained unit share in desktop and notebook PCs as it continues to wrest some of its losses back from AMD. However, Intel continues to slowly lose share in the lucrative server market.

Intel's unit growth isn't entirely surprising given that AMD appears to be more impacted by shortages, prompting the company to focus on its higher-margin products to maximize profitability. However, that ultimately restricts shipment volumes for some segments, especially as AMD also has to accommodate the incredible demand for console chips, a key driver behind its record overall market share in the quarter. In either case, AMD has continued to grow revenue share in the desktop PC market due to its focus on higher-end chips, with CEO Lisa Su saying at the company's recent earnings call that "we believe we gained client processor revenue share for the seventh straight quarter."

AMD's server business also continues to grow despite supply shortages, notching its 11th straight quarter of server CPU growth. AMD gained share during this period (+0.6pp), reaching 10.7% of the market, a high for recent times.

However, as we'll cover a bit more in-depth in the server breakout below, McCarron's numbers include all types of servers, whereas some reports that narrow the competitive landscape down report that AMD has reached higher levels of the server market. For instance, the

share report provided by Omdia

pegs AMD's data center share at 18.3% compared to Mercury Research's 10.7%.

According to Mercury Research, the market share jockeying comes amid an all-time record x86 CPU market in both the number of units shipped and the amount of revenue generated across all segments. That ultimately benefits both AMD and Intel as the overall 2021 revenue for x86 chips increased by 10.7% to $74 billion for the year, up from $66.6 billion in 2021.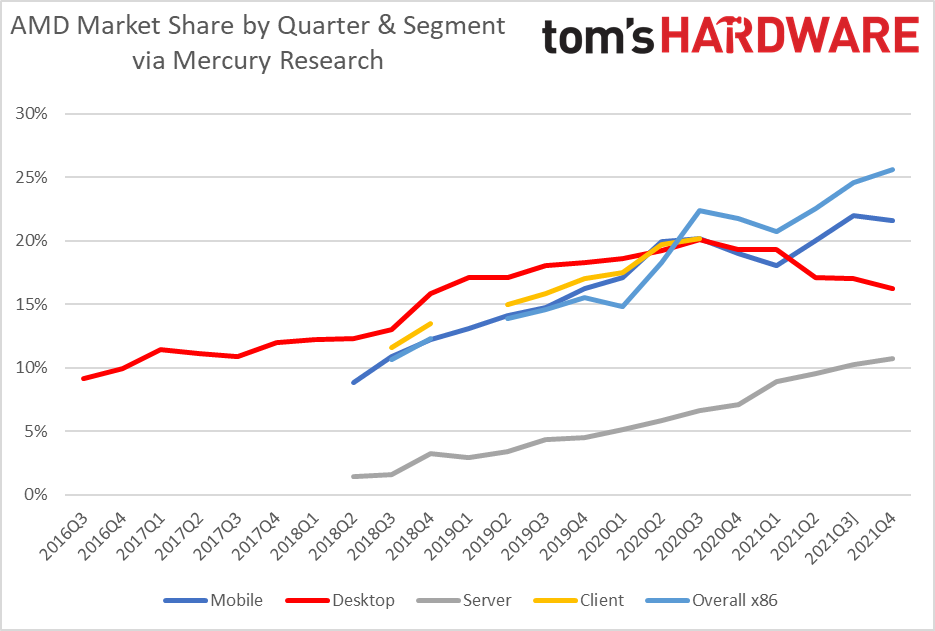 Enter the Alder Lake
www.tomshardware.com