Level 43
Thread author
Verified
Top poster
Well-known
What's the latest version of Bitdefender?

The current version of Bitdefender was released on September 27, 2021. The build number is

26.0.1.23

and includes the latest bug fixes and performance improvements.

Note

: If your Bitdefender doesn't have the same build number, keep in mind that product updates are rolling out gradually to all customers, and your PC may not have the live build just yet. Once the staged rollout update reaches 100%, it is automatically downloaded and installed. Then, Bitdefender will recommend a Windows restart to get the latest benefits included in the new version.
One new thing that I have noticed in this version is the "View attack timeline" feature, which looks pretty cool.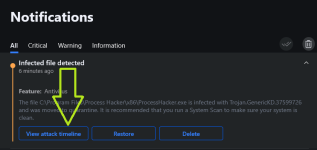 The below one is a real-time GIF file, so wait till it's finished.
Trend Micro has something similar to this. I think all/many enterprise products have a timeline feature showing chains of process. This is a basic version of that for home users.