Hello! I am having quite a strange problem. Sometimes captcha is blocked in all browsers for several months. Interestingly enough, I used to have this problem on google.com. But now I am not having the problem on google, but on facebook.com. When the problem was on google, I decided to use other search engines, and bypassed the problem. But now I need to open an account on facebook. Here is the screenshot of the problem: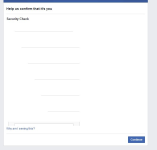 Notice there are several straight lines. At first, when I click the link, there is only one straight line instead of the 'I am not a robot' box. Then if I let it be for few minutes, after every certain period a new line gets added; and stops at a total of six lines I guess. After two or three lines it shows something like - 'your browser is sending unusual traffic' and some other texts along with it. But before and after that, no text shows up.
Please advise.
Operating System

Windows 7
Infection date and initial symptoms

Around April or May this year. Captcha was blocked on google.com.
Current issues and symptoms

Captcha is no more blocked on google.com, but now captcha is blocked on facebook for two days. (Details in the description.)
Steps taken in order to remove the infection

1) I have registered Kaspersky installed on my computer. When the problem first occurred I scanned whole computer with Kaspersky several times but found nothing. So from experience I have not scan this time, as I know it will only consume time without any result. However, Kaspersky is up-to-date.

2) Downloaded Malwarebytes and using free trial this morning. Scanned with it, and deleted all the PUPs it found.

3) The problem is seen in all browsers I have tried - Chrome, Firefox and Opera; and show similar result.

4) Cleaned with AdwCleaner. The report is attached.

5) I have disabled the anti-banner option in Kaspersky, and even not running it at all after I have installed Malwarebytes.