Google Play:
DuckDuckGo Privacy Browser - Apps on Google Play
GitHub:
duckduckgo/Android
At DuckDuckGo, we believe the Internet shouldn't feel so creepy, and getting the privacy you deserve online should be as simple as closing the blinds.

Our app provides the privacy essentials you need to seamlessly take control of your personal information as you search and browse the web, no matter where the Internet takes you:

Escape Advertising Tracker Networks — Our Privacy Protection will block all the hidden third-party trackers we can find, exposing the major advertising networks tracking you over time, so that you can track who's trying to track you.
Increase Encryption Protection — We force sites to use an encrypted connection where available, protecting your data from prying eyes, like ISPs.
Search Privately — You share your most personal information with your search engine, like your financial, medical, and political questions. What you search for is your own business, which is why DuckDuckGo search doesn't track you. Ever.
Decode Privacy Policies — We've partnered with Terms of Service Didn't Read to include their scores and labels of website terms of service and privacy policies, where available.
Ditched Firefox Focus due to battery drain issues.
Replaced with DuckDuckGo Privacy Browser.
+ Very simple to use
+ DDG is the default search (You don't need Google!)
+ App Icon can be changed from in-app Settings > General > "Change App Icon"
+ Customise your own Auto-Clean settings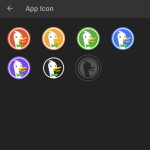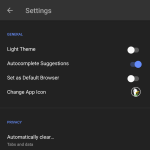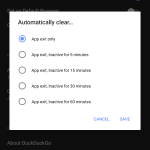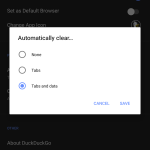 PS: These Automatic Privacy Browsers are similar-to browsing incognito, but these are generally better using Chrome/Safari/Firefox/Opera browser on mobile. It may not the perfect solution for every mobile user, but it is better than Firefox Focus by Mozilla. -imho.
Views may differ.
Last edited: