Level 36
Thread author
Verified
Top Poster
Content Creator
Well-known
The last time it was tested here Emsisoft browser security didn't do so good.

May I suggest Bitdefender TrafficLight as replacement?

The best protection according to the tests done by

@Evjl's Rain

a long time ago is Google Chrome (Google Safe Browsing) + Microsoft Defender Browser Protection (SmartScreen) + Bitdefender TrafficLight.

Off topic:

@Evjl's Rain

how are you doing? Time to do some more testing?
Emsi got updated, and did bit better than trafficlight on few sites @ phishtank
Malwarebytes extension had TLD blocking feature , but i guess it got removed or something
I agree , it would be time for another testing if rain has time....since many of us are using these extensions
Edit: on chrome webstore , emsi has 90k downloads and malwarebytes has over 7 million
seems they added tld blocking back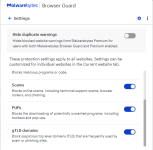 Last edited by a moderator: