Level 34
Thread author
Verified
Top Poster
Content Creator
Well-known
I'm sharing my
light configuration
for
BitDefender Total Security 2020
. Light enough to consume as little resources as possible without compromising security, focusing on blocking rather than disinfecting.
1. Why BitDefender?
BitDefender is definitely a market leader, with huge experience on the cybersecurity area and innovation, winning multiple awards and prizes for the great protection it can offer.
2. But BitDefender is buggy and consumes a lot of resources!
News! It doesn't. BitDefender used to have a bad reputation for being a buggy and heavy software, but things have changed since v2018. Right now, with 2020, it very light on resources, even lighter than ESET! And all major bugs have been fixed.
3. What's the objective of this thread?
Share with you a nice configuration, both in resource usage and protection, so you give the software a try and realize how good it is!
4. I don't know, sounds like advertising? Do you work for BitDefender?
No, but they paid me 4 million dollars to make this thread.
5. Why do you make this thread then?
I'm just contributing and helping users so Jack makes me a moderator and I can delete all of
@oldschool
's posts.
So, let's start with the fact you have installed BitDefender Total Security, updated it and rebooted your system.
In the left side you'll have a bar with sections, click over
PROTECTION.
You'll find something like this:
Good then, let's start with ANTIVIRUS.
Protected Folders:
Well, in here are predefined folders which will be protected against ransomware malware. Please add any extra folder you'd like to protect. I have added OneDrive.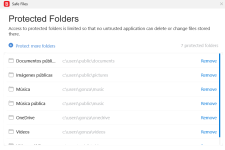 Application Access:
Here you will whitelist any program you will let modify the files in the protected folders. For example, if you have a specific program/software that you need to use and directly or indirectly modifies or replaces files in a protected folder, you'll have to whitelist that program here.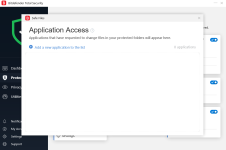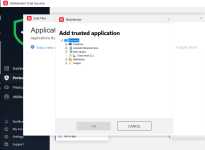 After, that, you can move the other sections, such as PRIVACY and UTILITIES. To be honest, configurations in these are totally up to you, wether you want micrphone and webcam protection, to use safepay, password manager, etc. To know all the modules and possibilities BitDefender has, check this thread by
@Parsh
---
User Feedback - Bitdefender Internet Security 2020 — a revisit to the autopilot
-----------------------------------
Well that is all! Unluckily BitDefender offers no option to export/import configuration file, so you'll have to do it on your own! But it's really easy and user-friendly.
1. In settings-profiles, you can adjust it to automatically switch profiles according to your activities.
2. In settings-advanced, you can adjust it to scan hosts file.
3. In settings-general, you can adjust it to show a security widget in desktop.
4. In settings-general, you can change the language.
5. In notifications, you can check all the product notifications, separated by ALL-CRITICAL-WARNING-INFORMATION
6. In dashboard, you can add "quick actions", shortcuts to different modules.
Active processes:
Please remember this doesn't actually mean anything and can vary according to the user's system. Total RAM consuming is below 300MB which is very good. And remember RAM is meant to be used, not wasted.