Samsung's rumored Galaxy Tab S4 tablet showed up in a leaked press render.
Based on the render, the tablet will not have home and capacitive buttons.
Samsung will reportedly launch the tablet between now and September.
Summarised by
Leaked image gives us a first look at the Samsung Galaxy Tab S4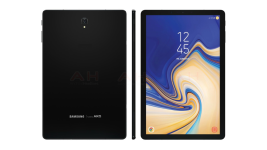 Based on this image, however, it would seem clear the Galaxy Tab S4 either does feature an under-display sensor, or it does not have a sensor at all. While a side-mounted fingerprint reader embedded into the tablet's power button may be possible in theory — given how both Sony and Motorola managed to commercialize this type of solution in the past — it seems less likely here as there seems to be no deviation in the size of the power key compared to the previous model.

At present, there is nothing new to add when it comes to the specs but drawing on the rumors that have come through to date, the Galaxy Tab S4 is expected to feature 4GB RAM, 64GB storage, a Qualcomm Snapdragon 835 SoC, a 7,300 mAh capacity battery, and Android 8.1 (Oreo). This is in addition to a 13-megapixel rear camera, and an 8-megapixel front-facing camera. While most of these can be considered natural improvements considering what the Galaxy Tab S3 offered, the Galaxy Tab S4 is also slated to come loaded with some additional features, such as Samsung DeX support.
Source:
Exclusive: Samsung Galaxy Tab S4 Official Render Confirms Design Rumors | Androidheadlines.com