Save to Google Drive allows you to save any web content directly to your Google Drive through the context menu of the browser.
In the settings you can choose where the contents get saved, I recommend navigating to your
Google Drive
and creating a new folder for all Saves with this extension which makes it easier to organise later. Or you can change the location from the dialog that appears once complete.
You can save all types of contents including;
- documents (pdf / docx)
- images
- webpages including HTML5 audio and video (html / webp / webm)
- audio and video (mp3 / mp4)
- archives
- software (exe / msi)
and much more!
Simply right-click over the image or link contents and Save to Google Drive.
As seen below, Save Link to Google Drive will save the executable to the cloud.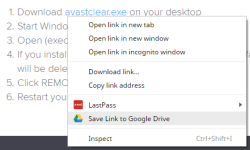 ​

No downloading or re-uploading required to Google Drive.
This extension has been available for many years, it's not new, but most may overlook it's abilities.