Administrator
Verified
Staff member
Forewarning:
US customers may get better rewards and offers than other participating countries (ie. UK)
Rewards may not be available in your country - we know! But it's not US only.
Use Bing on Edge without compromising Other browsers with Bing searches
Learn more at
Microsoft account | Welcome to Microsoft Rewards
Getting started is easy
Just opt in and start earning points. It's free with your Microsoft account.

Rewards for you
Redeem your points for popular games, newly released films and more.

Points for searching
Search with Bing on your PC and phone to quickly earn points every day.

Points for shopping
Get points with virtually every purchase from Microsoft.

Points for browsing
Earn points when you actively browse the web with Microsoft Edge.

Member exclusives
Access special offers and discounts, just for Microsoft Rewards members.​
Once registered, visit
https://account.microsoft.com/rewards/dashboard
to earn more points. You may receive emails from Microsoft, and can unsubscribe at any time.
Email example: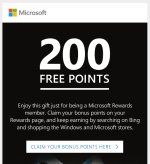 Redeem & Enter Sweepstakes [
Link
]