Level 14
Thread author
Verified
Top poster
Well-known
Windscribe have recently launched
ControlD - Control Your Internet
"Choose from 15 categories of filters that block ads, malware, adult content, IoT beacons, gambling sites and much more. Our bespoke block lists are extremely effective, but will not hinder your browsing experience due to false positives."
I have a Windscribe account, but it is not the VPN that I use the most. I also have AdGuard and much of what Windscribe is offering here is managed on my machines by that. However I am curious to hear what anyone who has used ControlID thinks of it so far. Do any of you have any views on it yet?
I am particularly interested in how well the feature that bypasses Geo-Blocking works - "Sites block access to content for people in the "wrong" country. ControlD operates a network of proxy servers in over 100 locations that can help you appear to be in the "correct" country and enjoy local content."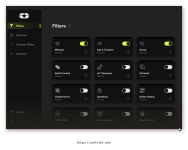 Last edited by a moderator: