Level 6
Thread author
Verified
Well-known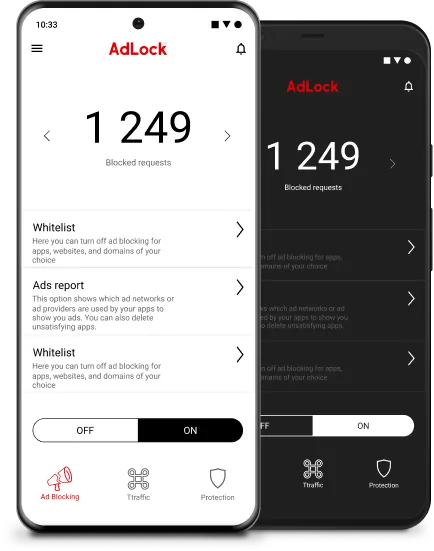 ADLOCK FOR ANDROID
A distinctive standalone ad blocker for Android devices. AdLock removes ads from browsers, games, and other apps while providing first-class privacy security. No hackery ROOT operations — download, install, have fun using ad-free Internet while saving on data traffic!

AdLock — the most functional ad blocker for Android phones

Cut off pop-ups, banners, and autoplay
Get the smoothest experience using favorite apps, games, and browsers without being interrupted by annoying flashing ads. Our systemwide adblocker for Android will show you how clean and neat the net can be without commercial content scattered here and there.

Disable malware-infected ads
We value safety and security. AdLock for Android offers a top-notch anti-malware defending module that unveils and disables sneaky threats lurking on the Web. As soon as you set up our application, your device is safe and protected from bugs, spyware, malware, etc.

Extend battery life
Cutting off tons of ads, our adblocker reduces background data usage taking a toll on phone batteries. Simply put, AdLock disables the loading of autoplay videos, banners, tiles, and other bells and whistles which means apps and browsers consume less battery power.

Secure your personal data
Protecting sensitive data is our company's primary concern. AdLock blocks all types of online tracking and surveillance scripts, phishing attempts, and all suspicious external requests. Please note that we don't collect, store, or sell any customers' data.

Save mobile data
You'll never exceed data limits again. Take control of data consumption by apps, block ads in a snap. Download the APK file, install our app, enjoy pure content, and track the saved GBs of the Internet traffic on the home screen of the best ad blocker for Android — AdLock.

Works without ROOT
No hassling with complex and time-consuming rooting operations, no hackery or third-party crutches laying your device open to various threats. AdLock is a full-fledged standalone adblocker application working perfectly fine without the need for root access.

STYLISH ADBLOCKING BEAST
The absolute ad slaying unit and privacy protector will not only knock socks off you with its performance but will also be a visual treat. Get AdLock for your Android and experience its power!
v2.1.7.8 is out