Hi guys! I wanted to share with you new comparison. That is the ninth edition of the "Advanced In The Wild Malware Test", and fifth in 2020 in which we choose the best antivirus application for Windows 10. In September, 11 developers joined our tests, and the analysis was continued uninterrupted throughout September. Here is the full list of tested products:
Avast Free Antivirus
Avira Antivirus Pro
Bitdefender Total Security
Comodo Advanced Endpoint Protection
Comodo Internet Security
ESET Smart Security Premium
G DATA Total Security
Kaspersky Total Security
mks_vir Internet Security
SecureAPlus Pro
Webroot Antivirus
Windows Defender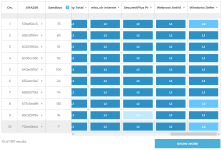 This time we have used 1187 malware samples and only one has misses by AVIRA product. However the final result this vendor is very good (1186/1187).
Moreover in November, we will start the last edition of the "Advanced In The Wild Malware Test". Next, we will publish a summary in which we will select a leader (or ex aequo few winners) for the excellent results in blocking and detecting threats on the Internet. Please follow our publications carefully
Read full article:
It is the ninth edition of the competition for the best antivirus software