How to Avoid Posting Duplicate Topics and Spamming the News Boards
Before Posting a New Topic
1. Browse the recent topics under the category you wish to post. (For example:
Security News
,
Technology News
,
Hardware News
are the most commonly used for posting News-related articles). Members can view the latest 20 topics on the first page, or anything (
usually
) posted in the past 5-7 days.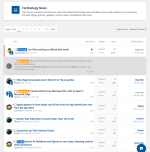 Image: Recent threads.
2. The Thread Title will detect words or phrases that exist in a Similar Threads' title and will be displayed above the main text box, as shown in image below. It includes the title of thread, it's posted location and date.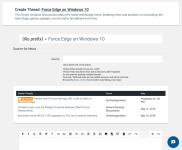 Image: Similar Threads to avoid duplicate topics.
3. If you are unsure, open the related topic from the Similar Threads box, in a new tab. Here you can check and confirm if it's already been posted.
Duplicate Threads and Spamming
There is absolutely no need to post multiple topics about the same subject.
Such threads will be removed by Moderators without notice. Continually posting duplicate threads and spam will result in a warning or account suspension.
This also applies to all other areas of the forums such as posting Software Updates, linking external Giveaways, sharing Video Reviews and Tutorials.
In rare instances, there are times where threads are posted within minutes of one another.
Helpful Links
Community Guidelines can be found here and our Moderators here.
Last edited: