Level 67
Thread author
Verified
Top poster
Well-known
I thought I'd do a feature review of Brave browser release v. 1.3.115 Windows, for those who haven't tried it. So, here we go...
Brave Browser is a "privacy"-oriented browser that is fast and has some nice features. It is an un-Googled Chromium browser (depending on settings choices) so you will notice many features that are similar to Chrome and other Chromium forks. Brave's business model centers on offering a privacy-oriented browser with the choice to opt-into its Brave Rewards program, where users earn BAT (Basic Attention Token) with which they can "reward" or support websites that rely on donations, e.g. gHacks before it started using an ad-based business model. More info on BAT can be found here
basicattentiontoken.org
. Another Brave feature is the "Browse in private with Tor" feature.
Below are some screenshots with a general and/or specific descriptions of features.
In "Appearance" (below) there are a number of settings, including light or dark theme, custom themes, options to use a wide address bar, hide Brave rewards icon and the usual Chromium appearance settings.
Brave users can choose whether to opt-in to Brave Rewards. If choosing not to, users may hide the "Brave Rewards" icon.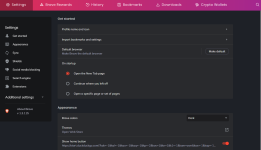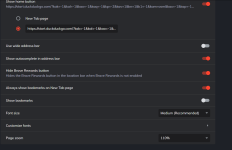 The Brave browser page features quick access to: configure Brave homepage, settings, bookmarks and browsing history. Plus, it's beautiful!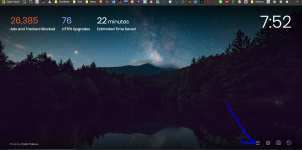 In the Shields section are switches to use simple or advanced Shields view, block trackers & scripts, upgrade to HTTPS and fingerprinting protection.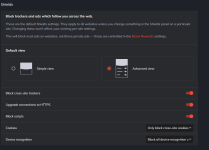 Social media blocking has its own settings ... and managing search engines is easy.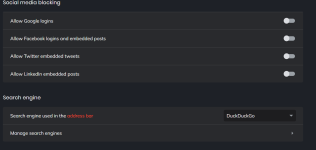 Extensions, plug-ins, etc. are here ...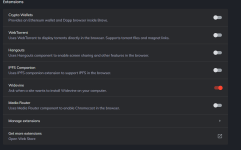 Privacy and Security here ...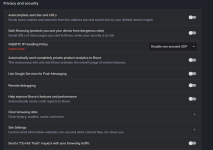 It includes the "Clear all browsing data on exit" feature ...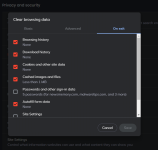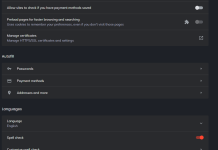 In "Downloads" you have the option to "Ask where to save downloads".
Plus, it has the option to "Run or Save" when you download a file, which Edge Chromium currently doesn't have.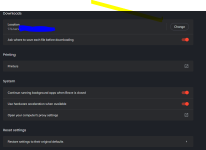 Per site Shields switches in address bar drop-down, and the option "Global shields defaults" to go
directly
to Settings > Shields (a nice touch!) ...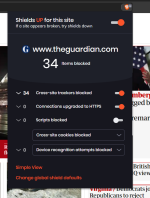 The "Allow scripts once" switch, and granular script control right at your fingertips ...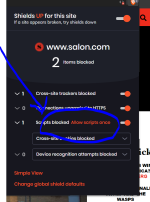 Built-in adblock feature the ability to add custom filters ... Plus, some granular element blocking via right-clicking your mouse which works pretty well (but, if you have severe OCDC, occasionally requires using Developer tools to create rules.)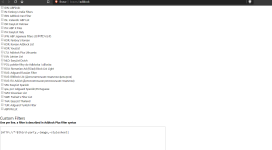 Summary:
All-in-all, I like Brave quite a bit, despite the occasional bug. After using both Edge Chromium and Brave built-in anti-tracking features for some time, Brave is quickly becoming my main browser. It's very fast (maybe as fast as Edge?) and has great built-in features. Its adblocking protection is very good and its script blocking is the most granular built-in feature of any browser with which I'm familiar. It beats the current Edge Chromium's "privacy"
settings hands-down. (Firefox probably has the advantage over Brave in anti-fingerprinting protections and privacy in general). There are enough built-in features to satisfy some tweakers' desires, within limits. Last but not least Brave is beautiful. It just might be the best looking browser available. That, my friends, is for you decide. Try it, you just might like it!
Last edited: