Is it lighter than McAfee?

If it does not use 2gb of your ram and 90% of your cpu like Iobit Malware Fighter does, then ram usage is not an issue. Fsecure is voted as one of the lightest avs on the market. Fsecure is also ranked as a top 10 av. Fsecure is getting better and better.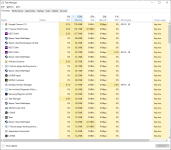 I have a machine with 32gb of physical ram, so programs will use more ram than usual. Fsecure only uses 160-200mb of ram on idle and less than 1% of the cpu meaning that this antivirus is so light, it is like it is not even there.
Last edited by a moderator: