Level 43
Thread author
Verified
Top poster
Well-known
This morning all on a sudden I was notified by WD with this detection for a file in the Windows folder.
C:\Windows\n.exe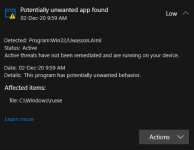 This is the sample:
VirusTotal
Thankfully it's not a malware, it's a PUP/Riskware which probably hide file attributes.
The relation chart on VT shows relation to uTorrent, KMS and some other unknown setup files. I'm not using any of those program on my system nor any cracked program. Have no idea how it came to be.
After deleting this is what WD shows as affected items.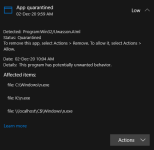 Ignore the second one in K: directory because I manually copied it there to keep a copy of the sample.
So the affected items are:
"C:\Windows\n.exe"
"file: \\localhost\C$\Windows\n.exe"
I don't know what the last one means. Anyone knows anything about this PUP?