Thanks
@venustus
, do you think Process Hacker is better then Process explorer ?
May be kaspersky was scanning every step of srtask during that time. I can't ensure it as you said this continued to happen for 4 long hours. If high cpu usage problem limited to srtask, then you may try to disable it's scheduled task (obviously if you don't need it).
More info would be helpful. Are you facing this problem every now & then or was that the first time?
Thanks
@yitworths
, this problem occurs at least 3 times, the last 3 Saturday. But before this period I was not at office every weekend...
Select this to display running tasks.
Thanks
@TairikuOkami
, done but the result seems mediocre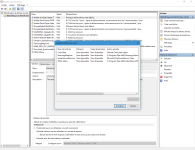 Autoruns will show scheduled tasks also
Thanks
@ticklemefeet
, If I install and run
Autoruns for Windows - Windows Sysinternals
, what should I look for ?
Agree, but sometimes there are some scheduled tasks not shown in AutoRuns, I've found this cases many times testing malware at MWHub, and I had to use Comodo AutoRuns, and even that, sometimes also neither in Comodo AutoRuns are shown, so finally I had to use and find the malicious task with Nirsoft TaskSchedulerView tool...
Thanks
@harlan4096
, does it mean that my PC could be infected ?