Homepage: Icedrive - Next-Generation Cloud Storage - Get 10GB Free

Made in Cardiff, Wales.
Some reviews/comments I found on the web
Review -
Icedrive Review 2020 - Modern Solution & Maximum Security
r/privacytoolsIO -
https://www.reddit.com/r/privacytoolsIO/comments/g1sydd
Features
Client-Side Encryption -- Not included in FREE plan.

Protect your data with our unbreakable client-side, zero-knowledge encryption.

Massive Storage - Massive amounts of storage ensuring you never run out of space.
Generous Bandwidth - Buckets of bandwidth to ensure your services are never interrupted, no matter how often you use your cloud storage space.
Password Protection - Control access to your shared files by using password protection.
Share Timeout - Make sure your files are only shared for a set amount of time.
Upgraded Features - Access tons of new and enhanced features on our Mobile apps.
Plans & Pricing:
Cloud Storage Packages - Icedrive
> Free 10GB
> Lite, Pro, Pro+
> Subscription or Lifetime.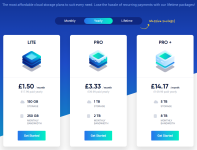 Roadmap:
Development Roadmap - Icedrive
Downloads