Level 32
Verified
Content Creator
Malware Tester
I'm sharing my
light configuration
for Kaspersky Internet Security 2019. Light enough to consume as little resources as possible without compromising security, focusing on blocking rather than disinfecting.
1. Why Kaspersky?
Kaspersky is definitely a market leader, with huge experience on the cybersecurity area and innovation, winning multiple awards and prizes for the great protection it can offer.

2. So, what's the problem with it?
Many people often moan about Kaspersky's resource consuming. This of course is entirely connected to user's hardware, OS and arquitecture. Every system behave different, so you may or may not feel a system impact. Truth is, many times it can be felt.

3. What's the objective of this setting thread?
We want to create a perfect setting guide, to reduce Kaspersky's impact but as well make it useful enough to not need to add anything on top of it. Afterall, it's a suite and we will use it as such. From Application Control to Software Updater.

4. Why are you the best robot alive, RoboGod?
Well thanks for the God thing, human. I've always thought I had some similarity with God. You know... everybody ignores my existence until they need me.
GENERAL
Untick "perform recommended actions automatically"
FILE ANTIVIRUS
File types: files scanned by format
Scan methods: Heuristic Analysis-->light scan
Scan optimization: scan only new and changed files
Scan of compound files: scan OLE objects
Scan mode: on execution
Scan technologies: iSwift/iChecker
Script scanner: ticked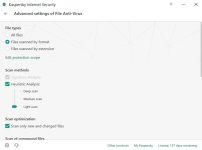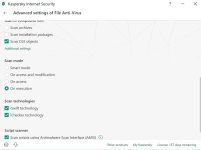 WEB ANTIVIRUS
Security level: recommended
Go to advanced settings.
URL Advisor: all websites
Additional: check everything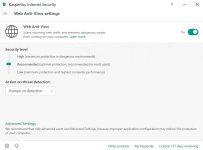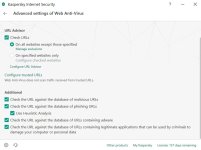 APPLICATION CONTROL
Trust digital signed applications: untick
Load rules from KSN: on
Change trust group for unknown applications: untrusted
Change trust group for applications started before startup of Kaspersky: low restricted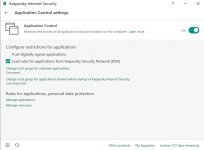 FIREWALL
Uninstall Secure Connection if you don't use it/have another VPN.
Tick all boxes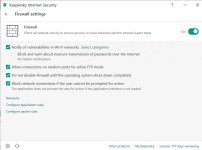 WEBCAM PROTECTION
Block access to webcam for all applications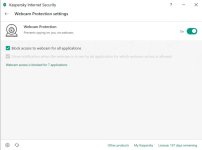 SOFTWARE UPDATER
Enable search for application updates: on
Automatically download and install updates: on
Search for application updates: all updates for known applications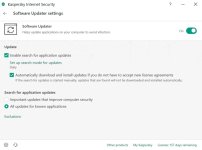 SYSTEM WATCHER
Automatic Exploit Prevention: monitor attemps to perform unauthorized operations
On threat detection: prompt
Application Activity Control: prompt
Rollback of application actions: prompt
Protection against screen keyloggers: detect and close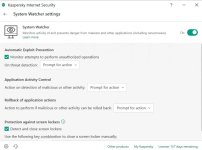 APPLICATION MANAGER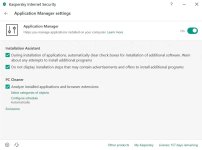 PERFORMANCE
Check all boxes except "perform idle scan"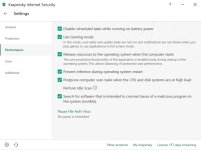 SCAN
Actions on threat detection: prompt
Scan external devices on connect: prompt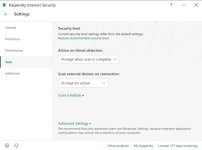 ------------------------------------------------------------------------------------
Questions are welcome, but too many questions will be charged!