Hi!
As the title says, Im getting 'untitled' search results on google, wich redirect to spam/malware sites on both Chrome and Firefox. Strangely, it started after enabled Sync on my Android phone, to get my bookmarks on my Windows 10 PC.
I've tried everything, uninstall/install browsers again, clear cache and files, profiles, reset Chrome App on my phone, of course disabled Sync features.
I performed different scans with Emsisoft, Eset, Malwarebytes, Adwarecleaner, with no results.
I attached an image , it looks pretty much like that. At first, the links simulated domains in my search history.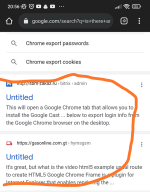 I attached the files form Farbar Recovery, thank you in advance!