AI-powered Bot
Thread author
Verified
Hi Folks, As the Windows Insider Program enters its 9th year in 2023, I continue to be amazed at our ever-growing community. It's with this mindset that we reflect on how we can achieve more with the program and the offerings for our Windows Insiders. Last year,
we shared
how we were evolving the Windows Insider Program to have more emphasis on trying out different concepts with our features and services. This year, we are continuing that evolution to better support
delivering continuous innovation to Windows 11
by
rebooting the Dev Channel
from the ground up, to become the
best place
for Insiders
to try out
new
long-lead
features and experiences
in development. We are also creating a
new Canary Channel
, to support preview builds of platform changes, similar to what was previously flighted to the Dev Channel. We are excited to roll these changes out and give folks more options to preview builds, but it does require a few initial tactical adjustments that we'll outline in the blog post below. Read on to understand what Insider Channel may be best for you and the action you may need to take to initiate changes.
Introducing the Canary Channel​
The new
Canary Channel
is going to be the place to preview platform changes that require longer-lead time before getting released to customers. Some examples of this include major changes to the Windows kernel, new APIs, etc. This is very similar to what we've been flighting to the Dev Channel in the past. And like the Dev Channel, some of the changes we try out in the Canary Channel will never ship, and others could show up in future Windows releases
when they're ready
. The builds released to the Canary Channel will have higher build numbers than the Dev, Beta, and Release Preview Channels – starting with 25000 series builds. Insiders previously in the Dev Channel were already receiving these builds and to ensure they
continue to receive new updates
going forward, we will be
moving these Insiders to the Canary Channel starting today
. Insiders moved to the Canary Channel will receive notifications of this migration in the OS and via email and can take steps to clean install to pick a different channel if they choose. See the Switching Channels section below for more details. This also includes commercial devices configured for the Dev Channel on 25000 series builds managed by IT administrators via Windows Update for Business policy, Microsoft Intune or through Group Policy. Please note, the changes to the policy to enable customers to opt-into the new Canary Channel via policy will be coming soon. The builds that will be flighted to the Canary Channel will be "hot off the presses," flighting very soon after they are built, which means very little validation and documentation will be done before they are offered to Insiders. These builds could include major issues that could result in not being able to use your PC correctly or even in some rare cases require you to reinstall Windows. We will offer limited documentation for the Canary Channel, but
we will not publish a blog post for every flight
– only when new features are available in a build. We will continue to provide blog posts for Dev, Beta, and Release Preview releases like we do normally. Our Canary Channel won't receive daily builds; however, we may ramp up releasing builds more frequently in the future.
Dev Channel Rebooted (Recommended)​
For Insiders who are hungriest to try out new features and experiences – we recommend the Dev Channel.
While we are rebooting the Dev Channel, much of
what we outlined last year for the Dev Channel remains the same
. This will be the place where we
incubate new ideas and preview new features and experiences
, not tied to a specific Windows release. In some cases, the concepts that we try with Insiders here will never ship, and others could show up in future Windows releases
when they're ready
. In some cases, features and experiences may go out to the Canary Channel first before going out to the Dev Channel however the Dev Channel will provide better platform stability which is why we recommend most Insiders join this channel. As we get closer to shipping, these experiences will also make their way to the Beta Channel. Going forward, Insiders in the Dev Channel will receive 23000 series builds.
Switching Channels​
Now is a good time for Insiders to evaluate their channel selection to make sure it's right for them. For example:
If you are an Insider in the Beta Channel who wants to be closer to the latest new features and experiences, we recommend you switch to the Dev Channel today.
It is important to note that when switching channels, Insiders can't switch to a channel that is receiving builds with lower build numbers without doing a clean installation of Windows 11 due to technical setup requirements.
Initial build series per channel:
Canary Channel: 25000 series.
Dev Channel: 23000 series.
Beta Channel: 22000 series.
Release Preview: Released versions of Windows 10 and Windows 11.
For Insiders who are automatically moved to the Canary Channel but want to be in the Dev Channel instead, they will need to do a clean installation of Windows 11 to make the switch. To learn how to clean install your Windows 11 device, please go to our
clean installation guide
to watch the below tutorial video, and follow the steps:
If you are unable to use this guide to do a clean installation of Windows 11 on your own, we will be sending out emails to Insiders with details on how you can order a clean installation kit.
Getting New Features​
As mentioned last year
, we control the state of individual features and experiences included in the builds released to Windows Insiders across the channels. We do this with Controlled Feature Rollout (CFR) technology. This allows us to roll out features in stages to monitor quality and your feedback in addition to trying out different variations of features (often referred to as "A/B testing"). With this level of control over individual features and experiences, we may release a build to the Dev Channel with a feature enabled but intentionally disabled in a build released to the Beta Channel or Canary Channel.
We will enable features in the builds when we are ready to do so.
We will only communicate about features that we are purposefully enabling for Insiders to try out and give feedback on. We will communicate to Insiders about new features and experiences that get enabled across all the Insider Channels via blog posts on the
Windows Insider Blog
including the Canary Channel. But as we mentioned above, we will offer only limited documentation for the Canary Channel.
Channels Going Forward ​
Here is how the Insider Channels will look going forward with the updated channel descriptions: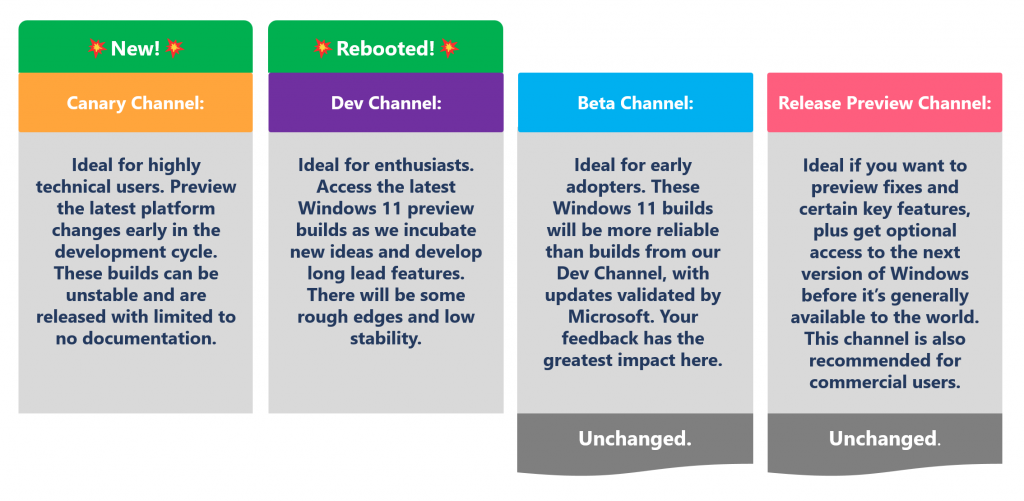 The 4 Windows Insider Channel descriptions. The text for these descriptions is listed below in the blog post.
[NEW!] Canary Channel: Ideal for highly technical users. Preview the latest platform changes early in the development cycle. These builds can be unstable and are released with limited to no documentation.
[REBOOTED!] Dev Channel: Ideal for enthusiasts. Access the latest Windows 11 preview builds as we incubate new ideas and develop long lead features. There will be some rough edges and low stability.
[Unchanged] Beta Channel: Ideal for early adopters. These Windows 11 builds will be more reliable than builds from our Dev Channel, with updates validated by Microsoft. Your feedback has the greatest impact here.
[Unchanged] Release Preview Channel: Ideal if you want to preview fixes and certain key features, plus get optional access to the next version of Windows before it's generally available to the world. This channel is also recommended for commercial users.
Thank you for helping us grow and evolve the Windows Insider Program so that we can better support
delivering continuous innovation to Windows 11
. As always, feel free to share with us your thoughts or questions by tweeting at us or submitting feedback in Feedback Hub. Thanks, Amanda
Source:
What's coming for the Windows Insider Program in 2023
Last edited by a moderator: