From Safing Portmaster
Verified
Developer
Newest Portmaster version
v0.22
just got out on "Beta". You will have to set your
Release Channel
to "Beta" in order to receive the update (for now). The Network Rating - as well as other complicated areas - now have explainer pop-ups attached to them. Would be great to hear your input on this!
@valvaris
& others
Also, you can now report issues or suggest features from within the Portmaster - with or without a GitHub account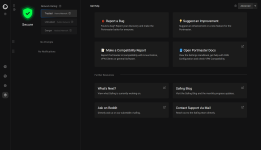 really looking forward to hearing what you all think!
Last edited by a moderator: